Get TWO FREE MOTO G6 Smartphonesǂ
with two lines of Unlimited HD Plus!
Plus, watch the top live TV channels with FREE SlingTV included!*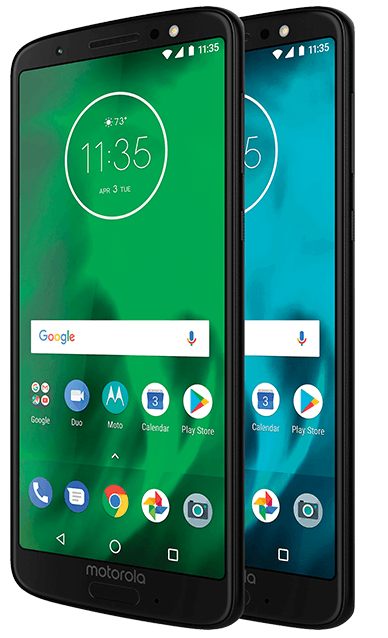 Moto G6
Our Price: FREE*
(MSRP $249)
*with activation or upgrade
Enjoy:
Durable Gorilla® Glass screen
Dual rear cameras
Water resistance
Dolby Audio™
turbopower™ charging
Available in Black
WHEN YOU SWITCH TODAY
Get as much as $500 in additional savings!
Up to $200 per line in Viaero switch credits to pay off your current phone installments or contract.
Up to $300 of instant in-store credit for each phone you trade in, depending on your phone's trade-in value (See what your Phone is worth).
Port in a new line of service for a $35 account credit towards your activation fee.

Phones must be purchased with new lines of Unlimited HD Plus Data service.
Available for Consumer and Small Business accounts only.
‡Not including taxes & fees; restrictions and exclusions may apply. For a limited time, purchase the Motorola MOTO G6 for only $4.99/mo. Get it for FREE when activated on a new line of Viaero Unlimited HD Plus. Current Viaero customers must upgrade to HD Plus to receive the FREE promotional discount. Maximum five free phones per account. Offer subject to change. Must purchase and activate phone using Viaero NOW! Promotional discounts applied over 24 months and end when the balance is paid. Full balance due if line is terminated. *FREE SlingTV: Receive a $25/mo discount off your Viaero Bill when you combine SlingTV on Viaero with 2 lines of Viaero LTE Unlimited HD Plus service ($10/mo discount with one line of service); Viaero will verify SlingTV purchase to apply discounts. Order SlingTV through Viaero and choose either the Orange or Blue channel package for $25/mo., billed separately from SlingTV. If you choose to discontinue SlingTV service, or we are unable to verify continued enrollment, then your monthly Sling discount will be removed. Customer must meet Viaero credit rules. Get up to an additional $300 off with trade-in of eligible phone and in-store credit. Activation fee and tax based on the full price of the device due at purchase. Customers porting in a new line of service will receive an account credit for the activation fee. For terms and conditions applicable to service plans and promotions, visit www.viaero.com/legal.