Start School Off Right...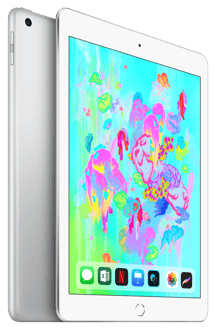 With a FREE iPad*
It's our gift to you! Get your iPad 32GB FREE when you activate a new line of Unlimited HD or HD Plus service. Get yours before they're gone!
Call or visit your local store to learn more.
---
Work and play whenever and wherever with the 9.7" Apple iPad.
Learn, work, surf, and play on the iPad's beautiful 9.7" Retina display. Encased in a light but sturdy aluminum body and powered by an all-day battery, you'll never be at a standstill as long as you have your iPad with you.
Beautiful and Portable
Get a better view with more than 3.1 million pixels on the gorgeous and vivid Retina display. The iPad weighs just one pound and is less than a third of an inch thick—perfect for travel near and far. But don't let the lightweight design fool you. The aluminum unibody construction gives you a seriously solid and sturdy tablet.
Faster, Longer Performance
Use two apps at the same time with multitasking features like Split Screen without losing your fast and fluid display. The iPad's 64-bit A9 chip gives you desktop performance so you can easily run one or two of the 1.3 million apps specifically designed for the iPad. And with up to 10 hours of battery life, the iPad keeps up with you when you're away from the charging cord.
Better Pictures in a Snap
It's a snap to take pictures with the iPad. The 8 MP main camera captures detailed images and 1080p HD video which you can edit right then and there with Photos, iMovie, or your favorite editing app. And the front-facing FaceTime HD camera takes perfect selfies to share with friends and family.
*Must purchase and activate tablet using ViaeroNOW! Promotion requires activation on Viaero Unlimited HD/ HD+ service plans, eBill and Viaero Assurance Service Plan on the discounted tablet. Promotional discount applied over 24 months and ends when the balance is paid. Full balance due if line is terminated. Customers porting in a new line of service will receive an account credit for the activation fee.This promotion has a maximum eligibility of 2 free tablets per account. Customers must meet Viaero credit rules.